Our Philosophy and Purpose
We believe that parents and family are the first and primary teachers of their children.
We believe that the preschool experience should be an extension of the family and a bridge into grade school years for both child and family.
We believe that teaching to the whole child is important. Fostering a love of learning and a love for God helps build recognition of self-worth.
We believe that through the guidance of qualified teachers the best learning occurs through play and exploration as well as through various pre-planned activities that are intended to provide opportunities for the child to interact, explore and relate successfully in his/her environment.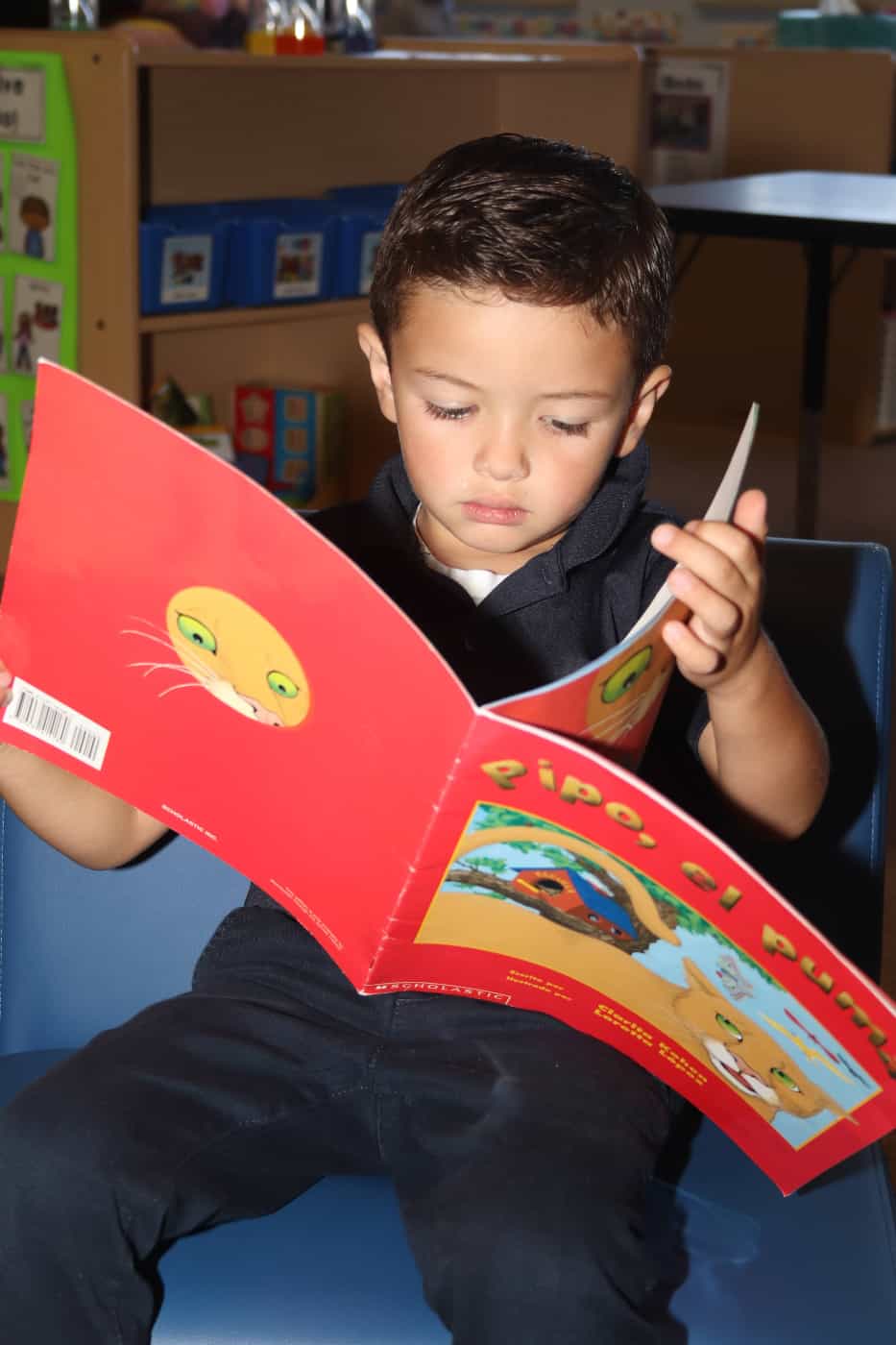 Age Requirements and Admission Policies
Any child between 3 and 5 years old may enroll in the preschool by filling out an application and tuition contract, supplying a copy of the student's birth certificate, immunization records, a statement of health, and by paying the required fees. To advance to Kindergarten at the appropriate time, a 3-year-old student must be 3 by October 1st and Pre-K students must be 4 by October 1st.
Children are admitted to Bl. Miguel Pro Preschool without regard to race, religion, national origin, or sex. We will make all reasonable accommodations possible to provide access for children with disabilities or developmental delays. We know that young children with disabilities are best served in the same setting where their typically developing peers are found, and we will accommodate them to the best of our ability. Some students with disabilities or specific health issues unfortunately cannot be best served at Bl. Miguel Pro.
All preschoolers must be toilet trained to attend Bl. Miguel Pro Preschool.
ALL students must comply within 30 days of enrollment with Colorado State requirements for immunizations. Students who do not comply will be excluded from attending school. See current requirements posted in the preschool. The parent or guardian of each child 3 years of age and over must submit a statement of the child's current health status signed and dated by an approved health care professional who has seen the child within the last 12 months. The statement of health status must be obtained at the time of admission or within 30 days after admission.
School Term and Hours of Operation
The preschool follows Bl. Miguel Pro's grade school calendar. Parents will be notified of any changes to the preschool schedule. Preschool hours are 8:00am-3:00pm Monday through Friday, including a rest period for approximately 1 hour and 30 minutes each day. Extended Day is available for all children needing before and after care. Please see the Extended Day portion of the school handbook to gather more information.
Class Size and Ratio
In compliance with the Colorado Department of Early childhood 15 students may be enrolled in each class. The student/teacher ratio is 10:1 mixed aged (3-5 year-olds), 10:1 three-year-old, 12:1 four and five year olds.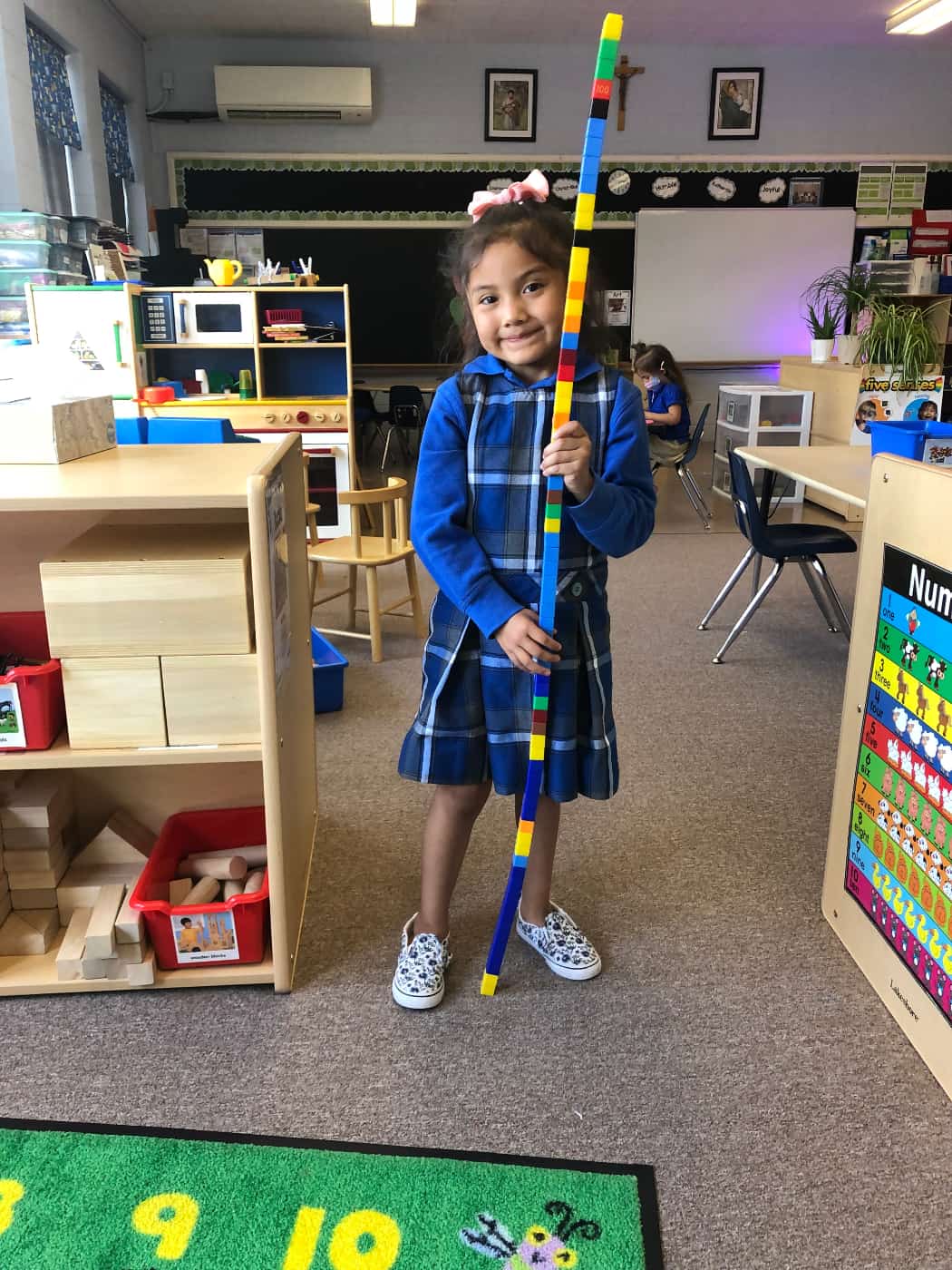 Classroom Programs
The program offered to students of Bl. Miguel Pro is designed to provide a broad range of learning experiences including, how to participate in groups, how to cooperate, how to share and problem solve. Students learn new skills, express their own creativity, learn about their Catholic faith, and are guided toward greater independence and self-confidence.
Classroom activities include music and dance, discussion, large and small group lessons, art, dramatic and creative play, religion and prayer time, gross and fine motor skill activities, snack time, pre-reading and pre-writing activities, math, science, and social studies activities.
Videos will very rarely be viewed in our preschool program. If a video is viewed it will be short, age appropriate, and related to our curriculum.
Blessed Miguel Pro Catholic Academy Preschool Curriculum
Bl. Miguel Pro Catholic Academy provides our students ages 3 to 5-years-old with a joy-filled and safe environment that develops the whole child and supports and empowers parents. Through academics, exploration, and play we provide a wide range of experiences and opportunities to help children get accustomed to the school environment, develop readiness for kindergarten, and create a life-long love of learning. We encourage students to recognize the importance of making appropriate social choices and having respect for each other.
Religion
The student will learn about God through:
Mass Participation and Bible Stories

God's gifts of earth, plants, water, and food

The Sign of The Cross and daily prayers

Religious Holidays and Seasons
Social Skills
The student will learn to demonstrate many ways of communicating with their peers:
Taking turns

Peer problem solving

Increasing independence

Active listening and following directions
Language Arts
The student will be taught:
Letter sounds and recognition

Comprehension

Phonemic awareness

Picture writing

Modeled writing
Free Exploration

Sorting, classifying, patterning, and graphing

Counting and number recognition

Shape recognition
Science
We teach 'everyday science' using household materials:
Students will hypothesize and draw conclusions

Students will manipulate objects by pouring, mixing, and comparing solutions

Students will manipulate and create simple machines
Schedule for Bl. Miguel Pro Preschool
6:45-7:45am
Before school care/free choice centers (library, art, writing, music, blocks, sand/water, dramatic play, Science, light tables, math tubs, puzzles, listening center, playdough)
7:45-8:05
Arrival
8:05-8:10
Opening pledge/prayer/calendar
8:10-8:30
Bathroom/wash hands/snack
8:30-8:55
Large group: music and movement/structured physical activity/story/literacy
8:55-9:55
Free choice centers (library, art, writing, music, blocks, sand/water, dramatic play, science, light tables, math tubs, puzzles, listening center, playdough)
9:55-10:10
Small Group Phonics/Journal Writing
10:10-10:15
Bathrooms
10:15-11:15
Outside Recess (Time can be switched with free choice centers depending on weather and specials schedules)
11:15-11:20
Bathroom/Wash Hands
11:20-11:50
Lunch
11:50-12:00
Bathroom/Cot Set-up
12:00-1:25
Nap
1:25-1:40
Cot clean-up/Bathroom/Snack
1:40-1:55
Large group:Music and Movement/Math/Science/Bible Story
2:00-2:40
Free Choice centers(Library, art, writing, music, blocks, sand/water, dramatic play, science, light tables, math tubs, puzzles, listening center, playdough
2:45
Gather stuff to go home and dismissal
3:10-5:45
Aftercare – gross motor/structured physical activity and free choice centers (library, art, writing, music, blocks, sand/water, dramatic play, science, light tables, math tubs, puzzles, playdough)

*Music class on Mondays, Gym class on Fridays
2022-2023 Tuition for Full Day Preschool:  $6,600 / Registration Fee:  $350 per family